Wishing all my followers a very Happy New Year!
Welcome to my first post to Sweet Sketch Wednesdays-2. A big THANKS to A day for Daisies for being our first sponsor in this new year. For those of you that are just joining us a quick recap, Arlana, the owner of SSW had the finale post last week, and Sally Dubes has continued the fun sketches on SSW-2 with a lot of our same sponsors and some new ones too! Stop on over and check it out we are even giving you some sneak peeks over on FB, as well as candy for our first 200 followers and you can find out more here.
So on to our post, Welcome and Thank you to Tammy owner and illustrator for A Day for Daisies for being our sponsor this week on the very first post to SSW-2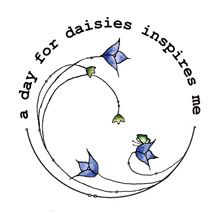 This weeks lucky winner will receive a $12 gift certificate to use at ADFD shop.
Here is this weeks Sketch.
I am looking forward to seeing what you do with this cute sketch and be sure to read all the new rules.