Hello and Happy Wednesday! Can you believe that it is August? Well it has been very exciting over here, we had a power outage, then a big storm, I am still painting, shopping for school supplies, and I have a new hobby that I have been doing...Quilting. I have been having so much fun doing this and find it relaxing. If you are interested is seeing some of the thing that I made quilting here is the site, Heide's Quilty hugs. Quilting and paper crafting are kind of similar. The fabrics and papers are fun to put together, yet... Quilting is done on a much larger scale!
Let move on to this weeks card and sponsor. This week it is A Day For Daisies, This weeks lucky winner will get a $12 gift certificate to use at ADFD.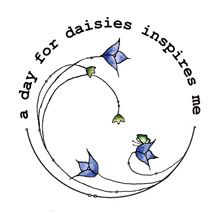 Here is this weeks Sketch
Thanks for stopping in this week. I hope I get to see your work over at Sweet Sketch Wednesdays 2.
Challenges.
Crafting from the heart.- Anything goes.
Craft your passion- Anything goes.